I haven't planed anything for my time in Australia. I knew that I would start in Melbourne. But what is next … I had no idea! Maybe I will travel the East Coast, maybe the West Coast, or maybe I will work and save money? In the end, I decided to travel the famous GREAT OCEAN ROAD for a week! I don't regret this decision until today!
How did I plan the Roadtrip?
Approximately 2 weeks after my arrival in Melbourne I had settled down and I also found really good friends. I started to plan a bit what to do while my time in Melbourne. One of the most popular attractions is the Great Ocean Road. Basically, it's a road that stretches for several hundreds of miles right on the coast and provides a terrific setting during the road trip! It's a "must to do" when you are in Melbourne.
Since my newly found friends wanted to fly home within the next month, we did not have too much time to rethink it. Therefore, we sat together for a day, discussed and planned various options.
How do I best travel the Great Ocean Road?
The first option is to book a tour. Almost every hostel and travel agency offers a tour to the Great Ocean Road. The tour can take between 1 and 7 days. You will drive with a bus along the Great Ocean Road and can enjoy the great panorama from the bus. The bus will stop at many sightseeing points. Depending on how long you have booked the tour, there are also days you can spend at the beach! This option is definitely worth it, if you are too lazy to take over the planning yourself, if you have too much coal or if you just do not have time left, but still want to see the Great Ocean Road.
The second option would be to plan the tour by yourself and to rent a camper van or to travel with your own car. The advantage of this possibility: You can decide yourself when and where to take breaks, where to go and how long the tour should should be. Basically, you are a lot more flexible, the feeling is simply awesome and it's even cheaper (if you do it with friends, with whom you can share the cost).
How do I plan the tour of the Great Ocean Road?
The planning is really easy. There are three things you need to plan to have an unforgettable road trip: the vehicle, the food, the route.
The vehicle.
Depending on what you have planned for while being in Australia will depend on what you  decide; Should I buy a car / camper van, or do I rent it? If you plan to travel to the east coast, it is definitely worth buying a car. But renting for a few days also fine!Since I did not have any specific plans regarding what I would like to travel in Australia, I decided with my friends to rent a camper van. For this we simply googled which companies offered to rent cheap camper vans, but you have to be careful! Most companies show only a net price, which is ridicules because there are many more added fees. We decided to use the company "Travellers Autobarn", where we rented the Camper Van for the Great Ocean Road (see picture).
If you have compared several companies, you also have to decide which car / van you want to rent. Here in the picture you will find several alternatives, which are offered most often.

In the end, we decided on a Camper Van, where 3 people can sleep without a tent. This also has been good! Otherwise I would have been too afraid of spiders or snakes! We paid about $ 1000 for a week. So for each about $ 333. First, the van should cost $ 800 total. When we were on site, there were still costs for blankets, dishes, gas bottles and so on. In addition, you could still take out insurance for $ 25 a day, which is there in case something breaks the van or we build an accident. Since we were pretty shocked about the many costs, we did not choose an insurance. Luckily, everything went well! But next time I will definitely take an insurance. Because the vehicles usually have more than 400,000 kilometres and like to break down! But I'll tell you more in the blog post about Tasmania!
The food.
After we picked up the camper van, we drove directly to the nearest supermarket and bought something to eat and drink. Actually, we had only pasta with minced beef every day and oatmeal with banana and kiwi in the morning. If you still need gas faucets for your gas cooker or other things, such as Sleeping bags, pillows, etc., then it's the best to go to KMart. There you should actually find everything you need!
The route.
Depending on how long you want to travel the Great Ocean Road, you should already make an approximate plan, where you want to go and how long you want to plan for which sections. I was with my boys for a week on the Great Ocean Road. We drove along the coast to Skenes Creek and then through the Great Otway National Park. Then from Pricetown along the coast to Warrnambool. For this route we have planned about 4 days. Then the way back the entire coast to Melbourne in 3 days. (see image)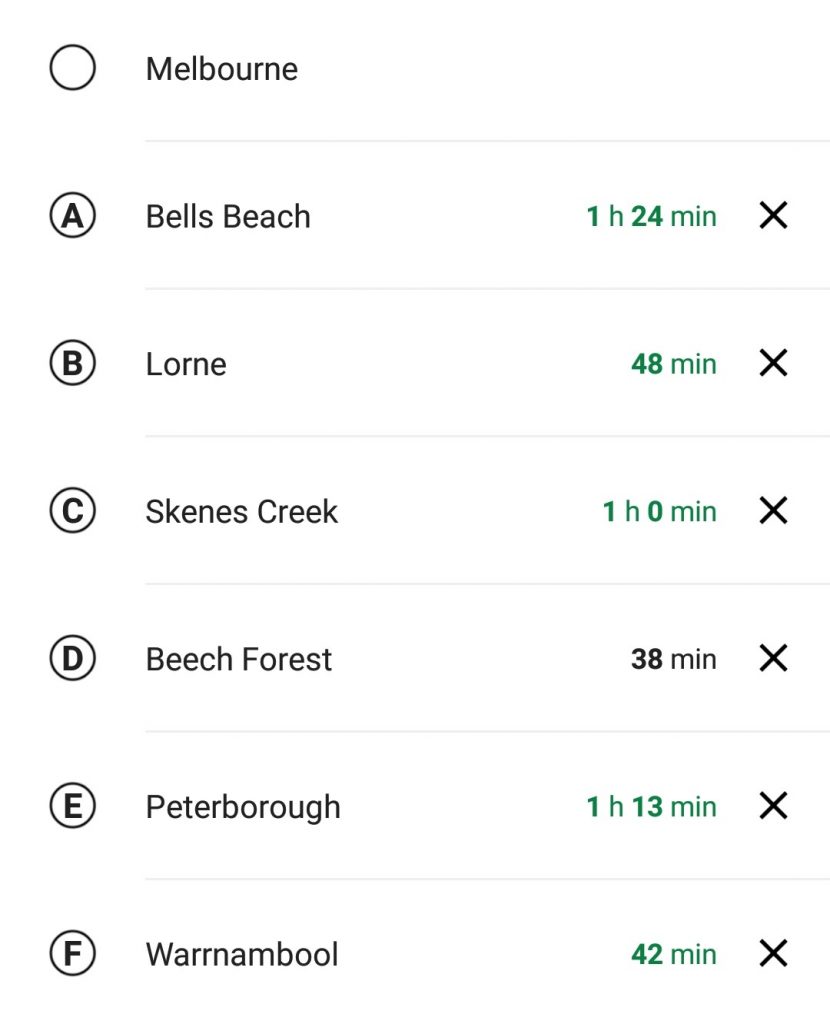 I think that was the perfect time! We did not have to rush and had enough time to look at everything and make longer stopovers. It did not get boring!!! We visited the following attractions during the whole trip (but there is much more, so google and plan your route!):
Bells Beach
Aireys Inlet
Great Otway National Park
Apollo Bay
Lavers Hill
London Arch
The Grotto
Cheese World
12 Apostles
My experiences on the Great Ocean Road
The road trip of the Great Ocean Road was my first real road trip in a camper van in a foreign country. Therefore, the anticipation was huge! The vibe was great and we were singing in the car.
Stop 1 – Bells Beach
Our first stop was Bells Beach, one of the best surfing beaches on the Great Ocean Road. You can not imagine the goosebump I got when I saw the cliffs, the beach, the sea and the bright sun! Bells Beach was also our first stop where we stayed. It was just great! We listened to music, cooked and ate at this beautiful place!
Coz there were no lights in the area, we could see the Milky Way. I have rarely seen such a blatant. And I started to think about myself, my life and how small I actually am.I did not sleep that well that night. I woke up coz of every noice, because camping in Australia is allowed only on campsites and you get big fines if they see you at camping outside as camperside. But to save money, we took that risk all week on the Great Ocean Road. Luckily nothing happened!!!
TIP: Download the app WikiCampersAU. Here you will find everything about road trips. Places to stay, gas stations, etc.!
Stop 2 – Aireys Inlet
This lighthouse was the most unspectacular attraction of the road trip on the Great Ocean Road. It's just a normal lighthouse. Maybe it was because the weather was not so good. With a beautiful sunset or sunrise, that looks really nice!
Stop 3 – Lorne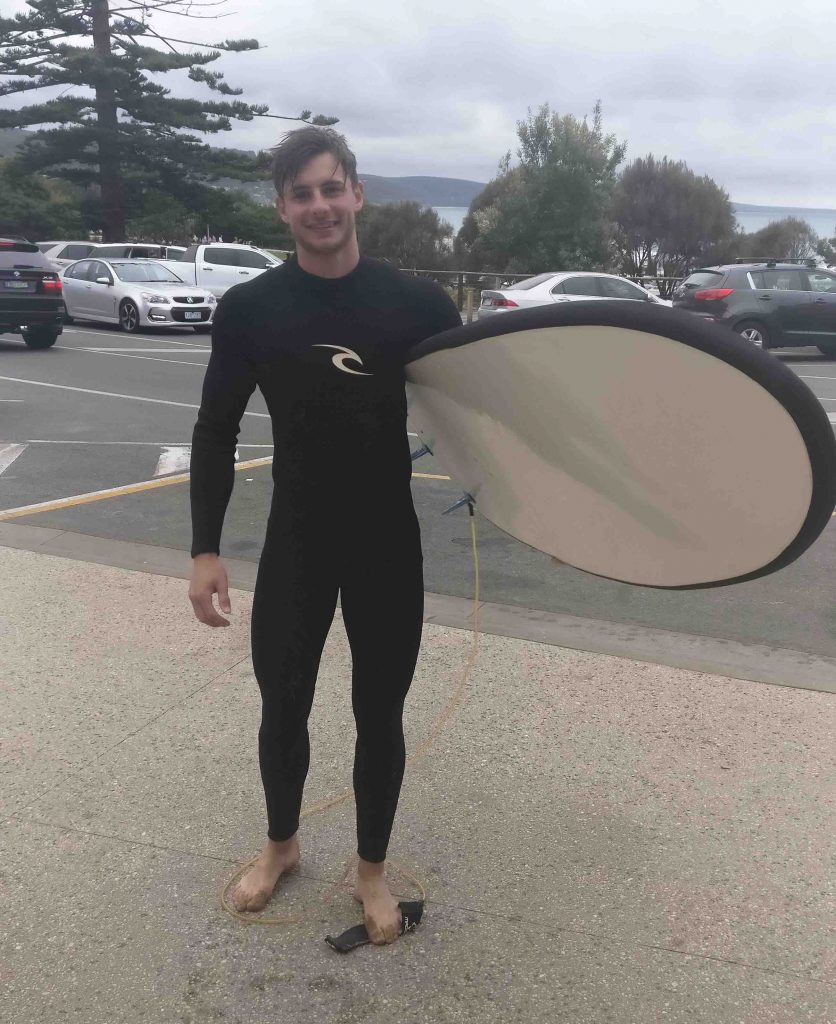 The city of Lorne was our next stop. It is a small town right on the beach. Since we had enough time and the weather was just nice and warm, we had decided to go surfing. It was the first time I was surfing. Although I had a beginner board but I found that I was not so crap. I even stood once for 10 seconds and surfed the wave 😊We paid about about $ 25 for 2 hours for the rental per person including the Wetsuit. This is the normal price in Australia.
Stop 4 – Great Otway National Park
Next stop was the Great Otway National Park. What expectations did I have for the National Park ?! None, since it was the first time I visited one. It felt like Im in a rainforest. There were big trees everywhere, it was green and there were many lianas on the road. The road meandered through the rainforest and it was really fun to drive the serpentines with the camper van. As we made our way through the Great Otway National Park, we considered where we could stop off. Our first stopover were the Erskine Falls. It was the first time for me to see a waterfall close up. Unfortunately it was too cold to swim in the pool under the waterfall. Furthermore, we stopped in Levers Hill. This was not so intoxicating. Next time I would skip this stop. All in all, the Great Otway National Park was not as exciting as I thought. It's just a national park: D
Stop 5 – London Bridge and London Arch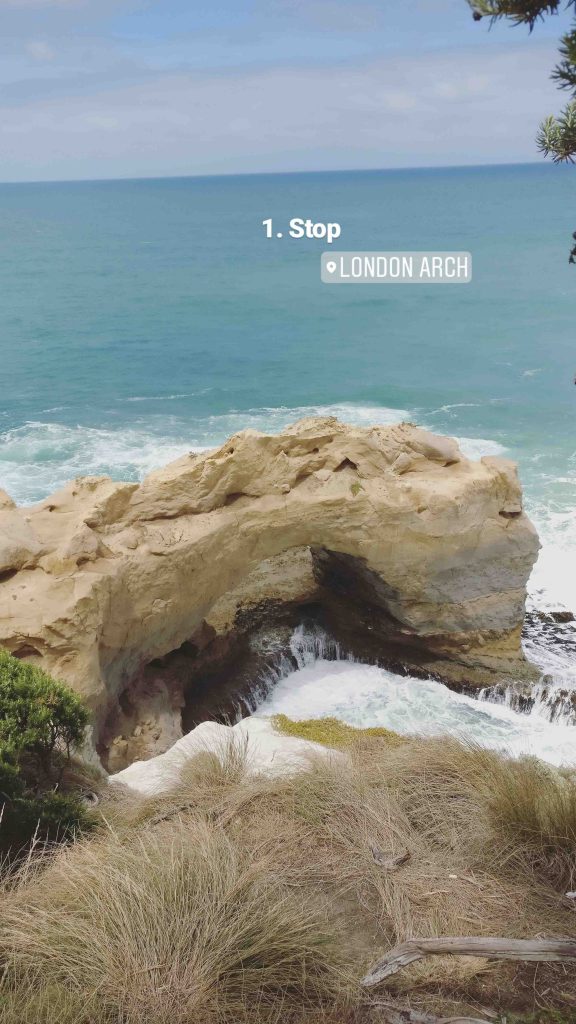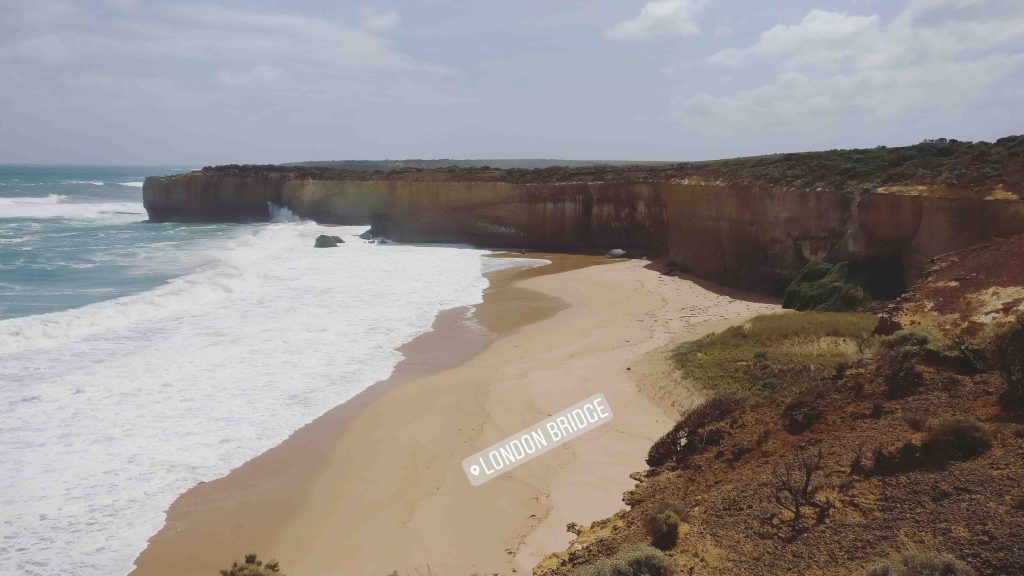 After coming back from the Great Otway National Park to the coast, the next stops were London Bridge and London Arch. There were two rock formations right on the coast, which looked incredibly blatant in good weather. That was the feeling I was looking for in Australia. The only thing that destroyed the feeling were the many tourists. There were an incredible number of tourists at the viewpoints and it was difficult to take pictures as everyone stood there with their camera and wanted to do some as well.
Stop 6 – The Grotto and the 12 Apostles
The Grotto and the 12 Apostles were my highlights on the Great Ocean Road. The Grotto was really good! It was blatant to be able to look through this rock formation. The 12 apostles, however, were not so intoxicating as the weather was really shitty. It was cloudy and not really warm. Therefore the sky was grew and the sea too. On the way back, however, we stopped by the 12 Apostles again and got up especially at 6 o'clock in the morning to see the sunrise. This was definitely worth it !!
Conclusion
We made many other stops, but there were no real highlights. It was the feeling of the Great Ocean Road along the coast. I would recommend it to anyone and would like to do it again on occasion. A week was also the perfect time, because you had enough time to stop and not have to go through it. I really enjoyed the road trip and am looking forward to the next one.
In my next blog post you can read something about my trip to Tasmania. It was a two week road trip with amazing beaches, lakes and mountains! If you have any questions, feel free to email me, comment on the blog post or write me on Instagram @fabianxarnold!
Your Fabian!