Melbourne – what a brilliant city. I have never been more comfortable in any other city. The atmosphere, the mood and the people are just wonderful! I am incredibly proud to have met many great people who have made the time unforgettable! I had such an amazing experience with many amazing memories whilst living in Melbourne, which you will intake and learn when reading this blog post.
Melbourne a city in Australia?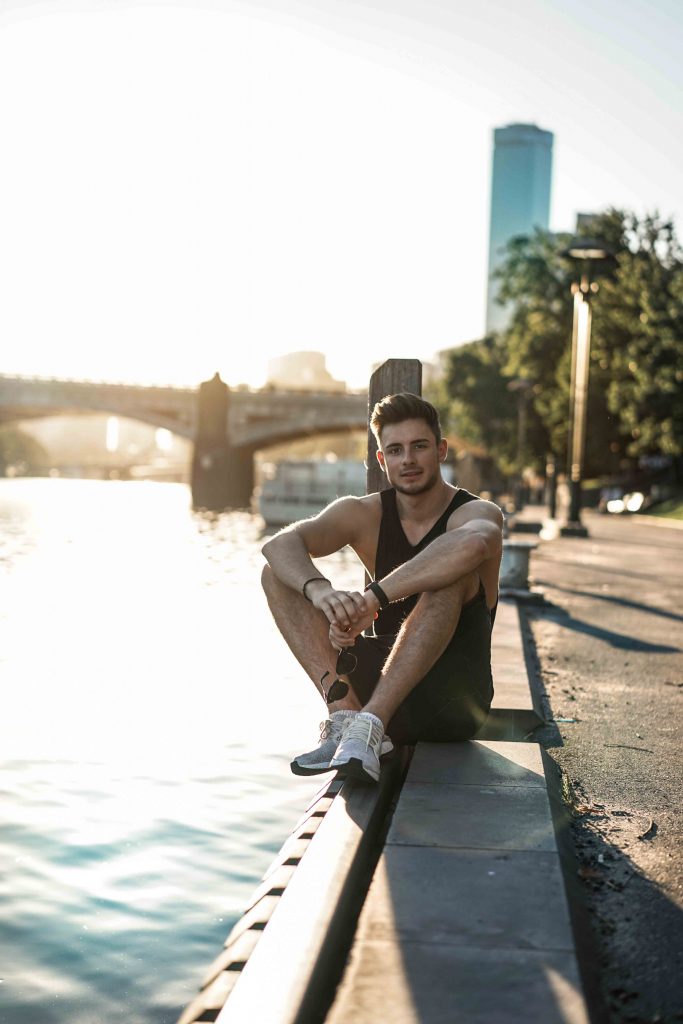 As written and seen in my last blog post, the first impression of Melbourne, Australia wasn't that stereotypical city I first believed in. Since I was only in the CBD (Central Business District) in the first days, I was stuck in this big city feeling.. I wanted the feeling of cruising to the beach, surfing or kangaroos and outback, and what you would imagine when you directly hear Australia. At first I thought I was in good weather in London (25 degrees and blue sky). During my first week in Australia I had two moments which I would recall as "goose bump" moments, which I would like to share with you.
Jogging on the Yarra River at 8pm Skyline
I went for a jog around 8pm which was my first day in Australia. Everyone who know me, knows how majorly important sport is in my life, I cant live with out it. Whilst I continued to run I noticed it was starting to get dark, I was starting to think about what I should to do. I knew I had to continue running because I had missed the last 2 days training because of my flight, still little jet-lagged I bravely continued. I searched Google Maps for a route where I could combine jogging with sightseeing. I jogged towards the Melbourne Cricket Ground along the Yarra River, It was still warm 20 degrees, I continued to jog in just the tank top and short sports pants through the dusk, the canal reflected the many colours of the city. Crickets buzzed and there was a light summer breeze, this was my first goosebump moment.
I jogged whilst the skyline faced my back, after about 15 minutes, I turned around, It was dark and the entire skyline shined in a beautiful blue, I started to smile and thought, "Damn, I'm free, Why am I always thinking so much? This is my time! Enjoy your life, because you only have one."
After I finished jogging, I sat down on a bench by the canal and admired the skyline for several hours. I could'nt  look away. I called @hagenrichter to share this feeling with him. We nearly talked 1.5 hours. I'll never forget this day!
My first beach day in Australia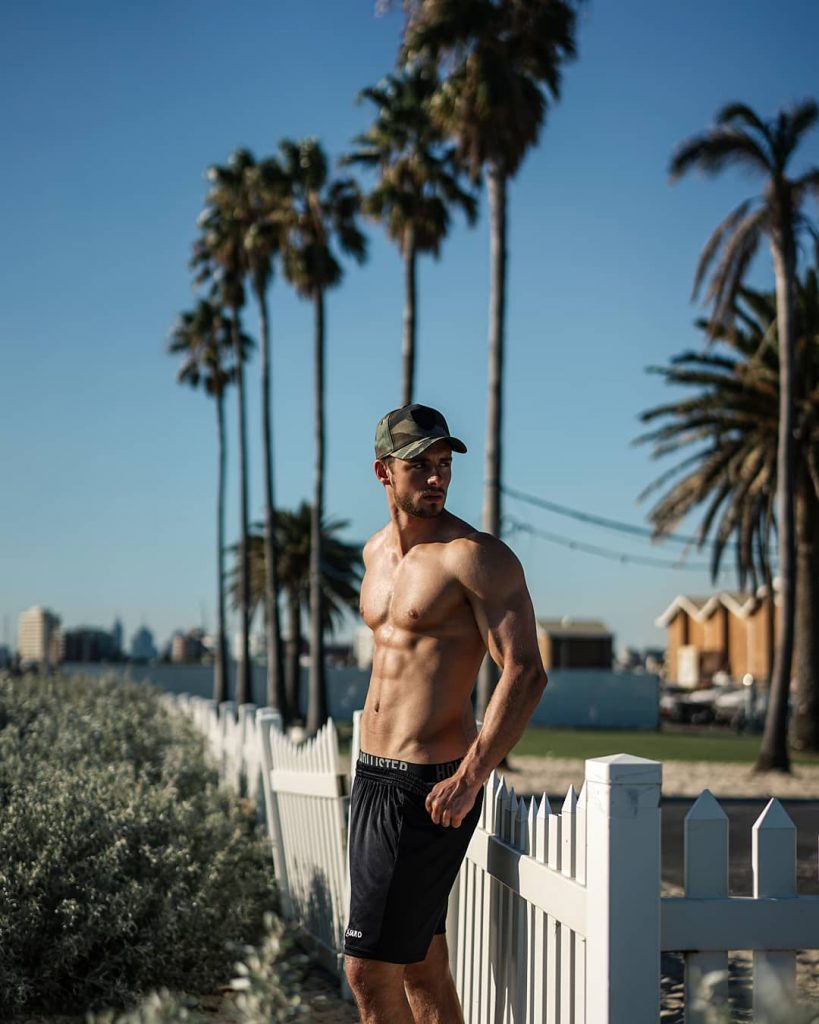 It was my first Saturday in Melbourne, it was a scorcher of a day 30 degrees to be exact, which therefore I decided with 2 of my buddies (I had only met in my first week at the hostel), to travel to St. Kilda beach.
We boarded the train to St. Kilda at Flinders Station, the sun was so hot that it became nearly unbearably to stay on the train. The ride took about 30 minutes, whilst being on the train you could already see the sea and the promenade and the blue water. The beach was long which also lay a line of palm trees along the promenade.
Thousands of people sprayed a summer feeling, as we got off the train we were greeted by a warm but refreshing sea breeze, this was my 2nd "goosebump moment". I felt free, I felt alive! This was exactly how I expected Australia to be, although this reminded me of the beach in California, It was bloody awesome !!!
Is Australia expensive?
This is a very significant issue for many who are considering going to Australia, Yes I have to say, Australia is fucking expensive.
An example of my experience:
It was the first day living in Australia, It was a Sunday and I was on my way to the hostel, It was 25 degrees and I had consumed the last mouthful of water several hours before. Since I had no idea where the nearest supermarket is, I ran through the streets and ended up in a kiosk (7Eleven), I was gobsmacked, a standard water bottle cost just 4-6 dollars. I know it was only 3-4 Euros, but it's still outrageous?!
Few other examples:
– Kebab $9- $12
– 1 scoop of ice cream $5- $8
– Fried noodles with chicken $12- $15
These examples can be shown in every Supermarket, almost everything is twice as expensive in Australia compared to Germany or in Europe. The first couple of months were the hardest, because sometimes I struggled to convert and compare the rates. You would never shop for just 10 euros to cook a great meal, It was normally a fee of $40-60 ahead, but if you convert that into euros, it's 25-40 euros, which is still a lot! No question!
Australia is not for smokers!
Yes it's right! Many backpackers stop smoking or at least stop their consumption while in Australia, Why?! A pack of cigarettes costs $30- $50 and tobacco for $20- $30 Is that too much? I am an absolute non-smoker! Therefore, this has no effect on me, the price in Germany or in Europe as a total could also be raised, because smoking is shit and absolutely unnecessary! Away from that it is also gross and unhealthy!
Do you already know the good old Goon?
Goon ?! What is that.. Goon is a cheap wine that can be purchased in 2-5 litre packs, this  costs $12- $20 and is by far the most popular alcohol among backpackers in Australia, does it taste nice too? NO.
I believe it says it all, if you were to read the ingredients on the back on the package it says "this may contain remains of egg shells and fish!!" Why should you drink something like that? the question is quite simple to answer.
Everything else is just too expensive! A vodka bottle costs about $30-60, the $30 bottle is the exact same bottle as the 5 Euro cheap vodka in Germany. All spirits are accordingly too expensive! Even beer is so expensive! A box of beer (24 bottles) you get in Germany for a good 12 euros, here in Australia a case of beer costs $ 40-50.
Melbourne is something for sushi fans
The only thing I'm completely surprised about and what I'll miss in Germany is the sushi! In Melbourne every third shop is a sushi snack! But it is far cheaper than in Germany! If you make happy hour and want to buy sushi as a snack you pay about $2-3 per thick sushi roll. I found a shop in Melbourne that has happy hour every day at 21:45 and sells 4 sushi rolls for $6. This is unbelievably cheap, I went there every night and bought sushi! Just awesome! If you want to know which shop I mean, leave a comment under the post!
The Vibe in Melbourne is just indescribable! – Festivals, bars and life
The nightlife in Melbourne is not anywhere comparable to Germany, meaning the clubs in German are much better! There far greater restrictions here, for an example the clubs are only operating until 2:00am – 3:00am and you also have to be inside the club before 1:00am, this is the "lock out" rule, not in before 1:00am you may swell go home, But everything is better. So what do I mean by better? Australia have many more pubs, bars and not so many nightclubs. The Australian pubs are completely different than German pubs, everything is much bigger, more open and familiar. Some clubs even have a pool, billiards, TVs and a super friendly vibe.
In Germany, only the older people go to pubs, here in Australia, it is normal for everyone to meet at the pubs from all ages, to enjoy food and beverages. As far as the festivals are concerned, every weekend in Melbourne there is a new festival, Beach festivals, music festivals and food festivals or normal funfair. Since most festivals have no cost you have something new to do every weekend.
Yarra Valley – The sky for wine lovers
Yarra Valley, which is about 1-2 hours by car from Melbourne! It is a incredibly, beautiful landscape that is perfect for hiking, you should definitely make a stopover here. We decided to join in a wine tasting after the hike, what could be better than a delicious wine at the end of the day with a beautiful sunset? I'm more of the red wine drinker, What about with you? Leave a comment there 😊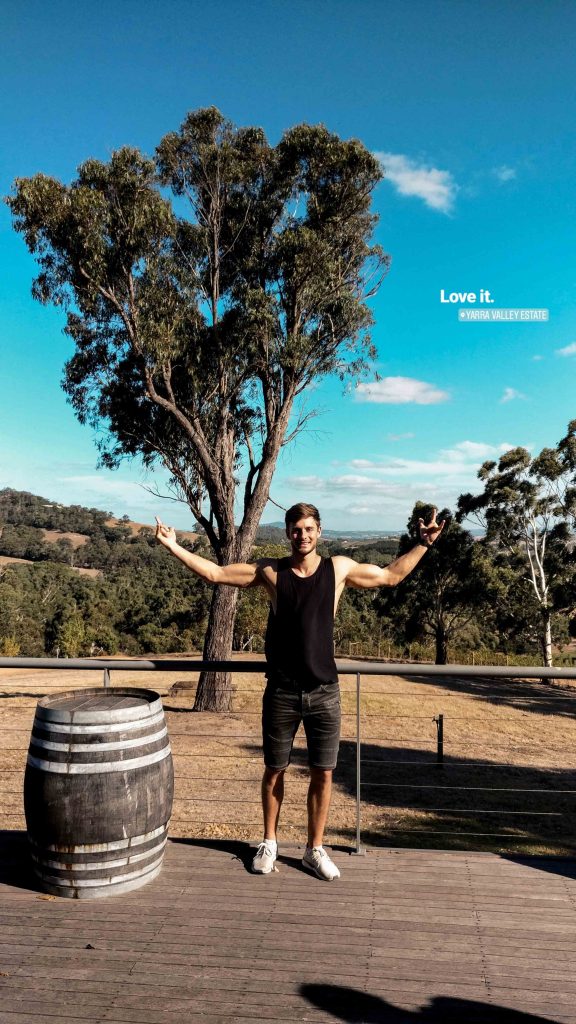 The conclusion
For us Europeans it's extremely expensive living here in Australia, once you get used to the value of expenses you become more aware which works out to be not so bad, once you start working, you understand why expenses here are are so high. Australians earn a lot of money! About twice as in Germany, the minimum wage is about 16 euros.
Apart from the living cost, I'm totally in love with Melbourne. Melbourne has such a great vibe, which I fitted in very well. Although it's a city with almost 5 million people, the city centre was not as large as first thought. I spent most of my time in St Kilda on the beach or in the CBD (centre). There are some superb beaches in Australia, and the vibe with the promenade was great !!! The CBD is superb too, you fill with just joy whilst you stand amongst the large buildings, you start to think how small you really are.
In the next blog post I'll tell you about my road trip on the Great Ocean Road. It was really cool! I can tell you in advance! If you want more input, feel free to email me or visit my Instagram account @fabianxarnold.