About Me
Hey I'm Fabian X Arnold. I'm 22 years old and from Wermelskirchen. It's a beautiful little city 30 km northeast of Cologne in Germany. After highschool I studied insurance management and did an apprenticeship as an insurance merchant in Cologne.
My passion is Fashion, Fitness, Travel and Model.
Welcome to my different parts of life! Fashion, Fitness, Travel, Model. Ever since I live my life just the way it makes me happy and fill it with things I love: I travel as much as I can, do lots of sports, surround myself with the people I love and eat good and healthy food.
"Always find time for the things that make you happy to be alive."
Fashion is more…
A really important role in my life is Fashion. Fashion is more than only wearing beautiful clothes. It's important to dress up for every different occasion. But you have to feel like yourself and not like anybody else, you have to find your own style! It doesn't matter what anybody thinks about you, just wear it!
Fitness makes me…
I've been taking part in sport my whole life so its more than a hobby for me. I started to play soccer when I was 5 years old. Besides soccer I played handball and flag-football for a long time. When I was 16 years old I started to hit the gym to increase my muscle mass. Until now I train 3-6 times a week, sometimes without a break (I had breaks only for a few weeks while i was on holiday :D). But Fitness is more! It makes me think about my life and all the things which are important to me. When you hit the gym you have enough time to be at one with yourself!
Traveln fulfilled me…
After successfully completing my dual studies, I was seized by travel fever and taken to Australia, where I am now working and traveling for a year. The first month in Australia changed my thinking about how to live your life. I saw a lot of beautiful places and spent a lot of time thinking about myself and the reason why I'm alive. I took pleasure thinking about self education and motivation. Travel is not only seeing beautiful places, It's fulfilled me with a lot of love and energy!
Modeln gives me…
When I was 18 years old a photo artist from Cologne asked me to become a model for his projects. After a many shoots with different photographers and in different countries I have a lot of experience as a model. Now it's more than only standing in front of the camera and looking pretty. For me it's like art and an incredible feeling I never wanna lose.
I'm already signed with DT Modelmanagement from Los Angeles, United States of America.
Media kit
My recent statics for you:
Work as an Influencer
Since the beginning of 2017 I have been working as an influencer as well as a model. I specialize in fitness, fashion and travelling. Above all, high quality and uniqueness are very important to me as an influencer. My down-to-earthness and sense of humor help me build a very close connection to my community. I try to work on myself daily and to improve and increase my work as an influencer.
For companies
I am open to any kind of cooperation, so just send me a short request and I will contact you as soon as possible! You can send these to fabianxarnold@mail.de 🙂 A little insight about me, my insights of my instagram account, ideologies and price ideas can be found in my below inserted media kit. Of course I am always open for questions!
Received Influencer Awards
Three months after I started as an influencer on Instagram, I received the "Rising Star" Award 2017 in Munich from Angelique Kerber and Generali Deutschland.

Previous cooperations
In the field of cooperation, I work true to the motto "less is more" and thus only with high-quality cooperation partners. It is inevitable that the products to be advertised have something to do with one of the niches I specialize in. My previous cooperation partners include: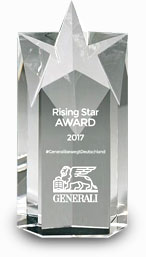 Generali Insurance Germany
Kapten and Son
Natural Mojo
Food Spring
Onepiece
Daniel Wellington
Trueprodigy
BoohooMan
Marvel – The Avengers
Media kit
My recent statics for you:
I hope you will enjoy my website!