In February 2018, I came to Australia as a backpacker. That should change soon. I had slowly settled in Sydney and worked as a Labourer for a few weeks. And then suddenly came this event, which has changed everything. In this blog post I will tell you a very exciting story. Therefore, stay tuned and read it to the end.
Fabian – the backpacker in Sydney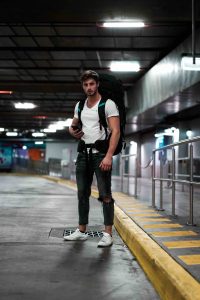 In Sydney I had settled down so far. I lived in a hostel right at Darling Harbour until then. The city of Sydney was very nice. Everything was so big and even more exciting than Melbourne. The city center was very busy and not as chilled as in Melbourne. You just realize that it's more about work. But every time when I went to Bondi or Manly I felt like I was in another world. The lifestyle has grabbed me immediately. Everyone was active in sports! Surfing, doing sports on the beach, playing football or even exercising in the outdoor gyms. What was really amazing for me was the whole BBQ area, which is set up everywhere on the beach and which anyone can use for free.
My job was hard and tiring to work in the sun as a labourer. But it was worth it, because I earned a lot of money. I made a lot of friends in the hostel, so it felt like I had a second family in Australia.
The event that should change everything!!!
And then the day came when everything was about to change. I was invited to an event from Bodaskins, which opened a pop-up store in Sydney. I was very excited about what to expect as it was my first event in Australia. Of course, I was a bit excited too. That's always part of it. In the evening I went by bus to the event. I was about 20 minutes late. I got into the store and luckily not so many people were there. The music was loud and everywhere were leather jackets in all colors and patterns. Otherwise it was a white room without decoration. I looked around but did not know any of the people. I went to the bar and got myself a drink first, with which I then walked a bit around the area.
After about 20 minutes, a guy came to me, who was also alone. This guy was Australian, about six feet tall, and blond hair. He had a very strong Australian accent at the beginning, and it was very hard for me to understand him because of the loud music. Actually, I did not understand him the whole evening. But I noticed right away that he is a very nice guy who I will get to know better. I spent the evening with him, and we walked around a bit. We learned more about each other. He was a rugby player and had played for the Australian national team.
After an hour, he introduced me to his manager. He was very open-minded and wanted to get to know me. Of course, I had nothing against that. This may be a chance for me to gain a foothold in Australia. After another 20 minutes, a man came in, which is one of the most famous journalists in Australia. He said to the manager he should definitely sign me, as I have a lot of potential. That made me very happy. When the event ended around 10pm, I was just about to take the bus home when the rugby player asked me if he should drive me home. I said, "Yeah, why not?"
In his car, we continued talking and I looked at his Instagram account. His name was Charlie Taylor (@charlietaylor on Instagram), he was 22 years old and was born in Sydney. He had about 178,000 followers on Instagram at the time. At this time, I had 142,000 followers.
He drove me home and we exchanged our numbers, so we could stay in touch.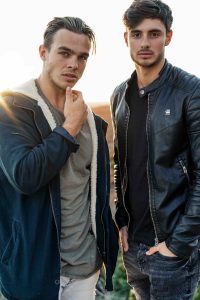 The next weeks after the event. The beginning as a model and influencer.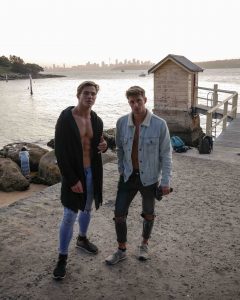 The next few weeks had changed a lot. Charlie went to Love Island. This is a TV show that is about finding love. That was the reason why I had not seen him after our first meeting at the event. Even with our smartphones we could not communicate because he did not have a phone for the time he was on Love Island!
The manager of Charlie had contacted me in the meantime and asked for a meeting. Of course, I confirmed that directly. When I met him, it was clear to me that he believed in me and that I should trust him. I signed with him and was thus as a model and social media area as an influencer in the agency The.MGMT housed.
It was the first time for me to have a management and I thought from now on everything will be better. That's the way it should be.
I was constantly invited to events, I came to the newspaper more often and my followers grew very fast. This was partly due to Charlie, because of the very strong social media growth due to the TV show Love Island.
After several weeks working as a labourer, I was fed up with racking my guts at the construction site. Since I now had a management role as a model and influencer, I wanted to focus 100% on it and seize the opportunity. So, I quit my job as a labourer and was 100% time focused on modelling. Through my manager, I also got a free gym, where I could now train regularly again. I often done cardio sessions with Charlie. He had stopped playing rugby to focus on Social Media 100%.
It was a very cool time always go to events with him and enjoy life in Australia.
Best friends Charlie and Fabian. DifferentSame.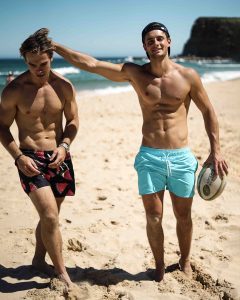 In July, I decided to move from the hostel to Charlie's apartment because he was looking for a roommate.
With Charlie I become good friend. Every day we did something together and lived together. Also, our characters were very similar. We are both very determined and want to achieve something in social media. We are both very athletic and love to be outside and among people. After a long time, which we had done something together, we were always better friends. Small quarrels meant that we only got to know each other better. I got to know his past and he mine. I believe only by arguing, one is welded closer to each other!!
Besides Instagram we wanted to start with YouTube. Since we both did not really know how to properly cut videos, we needed a videographer. One of my backpacker friends was very interested in videography and also bought a drone. His name is Robin aka @thePostler on Instagram.
We offered him to live with us in the apartment. So, we were already three. The three of us started making videos for YouTube. After several weeks we had the idea to create a YouTube Channel for Charlie and myself. We called it DifferentSame because it describes us both very well! We come from different countries, but actually have the same thoughts and goals. Therefore, we are different but same!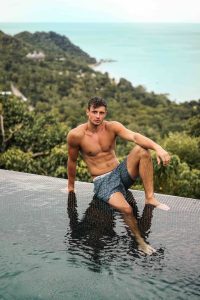 Exciting events for YouTube.
In the next few months we did a lot. We were invited to YouTube workshops by Google and got to know an incredible number of new people. Today I can say that I know more people in Australia than in Germany.
We've travelled to Melbourne for the YouTube show in Australia. We flew to Thailand to live cheaper and to produce cool content.
Unfortunately, Robin left us after Thailand because he wanted to go to Germany … Therefore, the project YouTube and DifferentSame was put on hold.
I moved to an apartment in Bondi and Charlie found a new apartment in Marouba, another part of Sydney.
The here and now.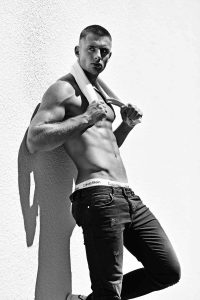 Today (January 2019) I'm still living in Bondi and Charlie moved with his girlfriend to an apartment in Zetland (part of Sydney). We have not seen each other much lately, as we both have our own business to do. Charlie has found a new videographer, with whom he now goes more into comedy. He also founded his own clothing brand for which he is currently in China. My best friend from Germany Kevin visited me and Carlos (@carlosbottcher on Instagram), whom I can also count as one of my good friends! I concentrated more on modelling. In a few days, my parents will come to Australia, which I have not seen in almost a year. That's why I'm so excited!
In December, Kevin, Carlos, Charlie and I were on a road trip. We travelled the east coast of Australia from Sydney to Cairns with a Campervan from Apollo Campers within a month. I'll tell you more about that in my next blog post. You can also check my Instagram account @fabianxarnold or if you have questions you can email me. I look forward to your feedback and wish you a nice time.
Yours,
Fabian