In addition to the Travelling I will try to bring you something about fashion closer. The Mercedes-Benz Fashion Week Australia, which lasted from 13th may till the 19th may in Sydney, was of course something which I experienced. Which bizarre trends I met in 'Down Under', which personalities I got to know this week and more, you'll learn in this blog post.
Fashion Week Sydney – My personal experiences and experiences
I've been living in Sydney for over a month now and I can say that it's an incredibly hot city. Not only the weather, but also the people, the air and the vibe gives you an unbelievable life energy! This life energy turned into a huge anticipation shortly before the Fashion Week. For a long time, I was not looking forward to a week like the #MBFW Australia 2018! Since I was very limited as a backpacker in my selection of outfits and had nothing reasonable for the fashion week, I was kindly provided by the International Fashion Group with outfits for the Fashion Week. Thanks a lot for this! : D
On May 14th, 2018, I finally went to Fashion Week to attend my first show. Of course, I was extremely excited because I didn't know a single person at Fashion Week. But fortunately that changed in the blink of an eye! On the first day I was still alone and very lost, but on the second day I met two stylists from Melbourne, a model and a social media star from Sydney, which I am now allowed to count as one of my friends. Fashion Week was much more fun with them than I actually thought. Unlike the Fashion Week in Berlin, the Fashion Week in Sydney has a central structure. That means the shows are, with few exceptions, all in the same place. This makes it very convenient for visitors, as you do not have to constantly change places between shows. After seeing the whole show, my feeling was that the #MBFW Australia was also much smaller than any other fashionweek which I had visited before. But after 2 days I had seen a lot more visitors, photographers, models and bloggers i've ever seen. All in all, it was an extremely cool week, in which I met a lot of nice people and gained experience! Also … almost forgot … of course, the fashion was also very cool: D But more on that in the next section!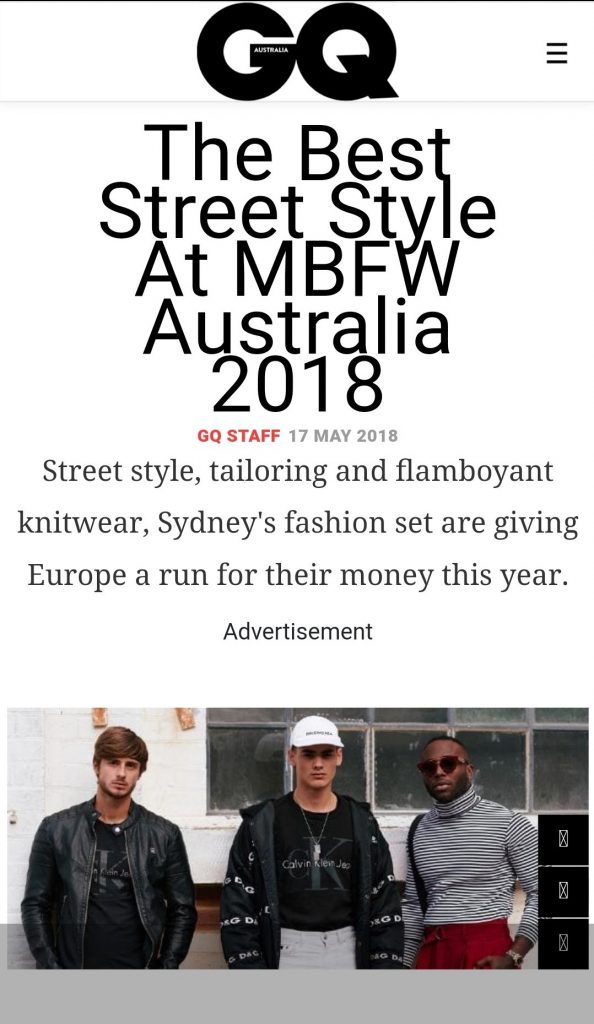 The most bizarre trends Down Under 2018
On this topic, I have to say right at the beginning that the fashion in Australia is not as bizarre as I imagined. Of course there were outfits, which are very unique. But even these I would wear. and anyone who knows me knows that I dress rather simple and street style. By the way … I was even on the cover picture for the best street style of #MBFW Australia 2018 on the website of GQ Australia.
But now back to the topic Trends in Down Under 2018.The video below shows a small part of the St George Nextgen Show. It is worked a lot with  yellow, green and orange colours. The neck is always covered, be it through a scarf or a turtleneck sweater. I personally like this style great. It is something different and stands out from the normal black, white, gray street style. Besides the shows from Double Rainbow, Blair Archibald and Justin Cassin, I liked this show the most. But maybe that was just because men's outfits were introduced. Almost all the other shows were about the women.
st_george_nextgen_shows_mercedes_benz_fashion_week_australia_2018_skurrile_outifts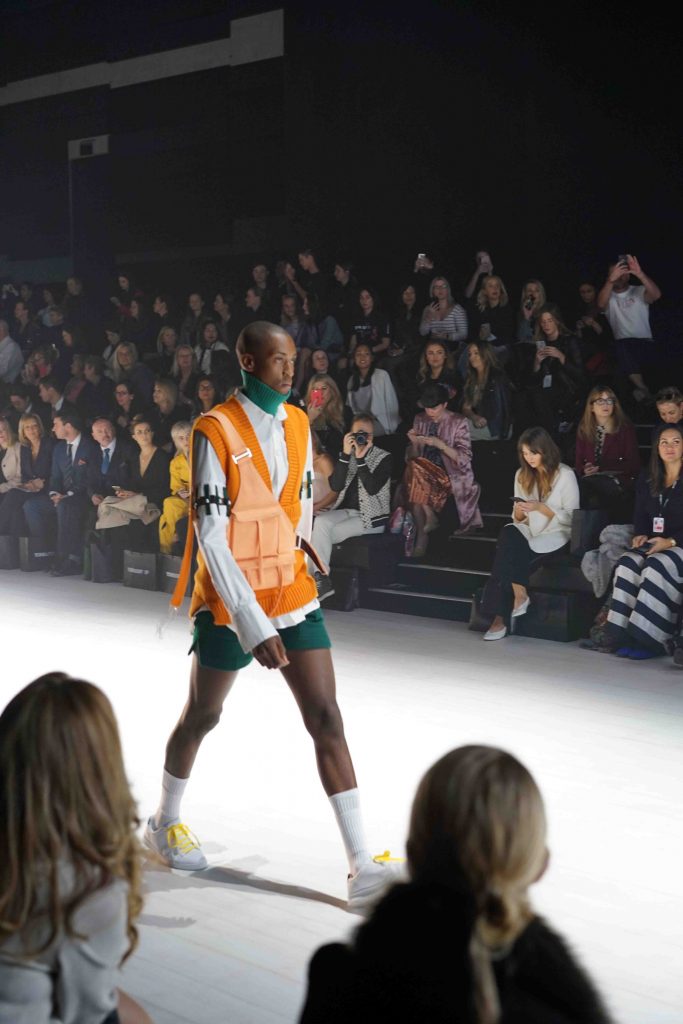 But I would like to respond to that as well. Here I show again a short video from the show The Innovators. The outfit presented here represents the women's fashion at #MBFW Australia 2018 very well! It is very much worked with white. The small details are very nicely worked out. Furthermore, the outfits are often played with sex appeal.
One of the most bizarre outfits I show you in this short video! Unfortunately I am not sure if this outfit is suitable as streetstyle and is used in everyday life: D Little fun !!
Personalities at the #MBFW Fashion Week 2018 in Sydney
As I said in the previous article, the first day was really crappy … I did not know one at the Fashion Week in Australia … Unfortunately there was no opportunity to meet people. But these days can always happen. The most important thing is not to be discouraged and just keep going. On Tuesday, the second day, things were much better and I met several models, stylists and journalists. It all went on as a pyramid scheme and I feel that within a day I know 50% of the people who attended the Fashion Week in Sydney.Among them were above all many photographers, bloggers and models. My close friends include Caspar Thomas (@caspar_thomas), Phillip Robert Holmes (@philliprobert) and Charlie Taylor (@charlietaylor).The most famous personality was Matthew David Johnson (@matthewdavidjohnson), the bachelor Australia of the last season, with whom I talked briefly. On Instagram, I saw Tammy Hembrow (@tammyhembrow 8.2m followers) attend the GIA show. Since I was already at home …: D Well maybe next time …: D
 A week full of stress – The Fashion Week
For a long time it wasn`t stressful at the Mercedes-Benz Fashion Week Australia 2018 in Sydney. I've met so many people this week and experienced so much that I cannot remember everything. I was at Fashion Week from mornings to evenings Monday through Thursday, taking with me virtually every show. Even though I have to wait a bit until I have the next big event, I am very happy that this week is finally over! Now it's time to review all the photos, videos, impressions and contacts and evaluate!
I hope you liked this blog post?! If you have questions, feel free to ask me! I will answer everything and if you have suggestions on what to write in my next blog post, please tell me! 🙂
Otherwise, check out my Instagram account @fabianxarnold!
Best regards
Fabian